The Highest Scoring Football Matches of All-Time
Everyone loves a high-scoring football match, as long as it's not your team on the wrong side of a hiding.  Here is a look at some of the highest-scoring matches from competitions around the world.
Here's a look at some of the biggest scorelines in the history of football:
AS Adema 149-0 Stade Olymique L'Emyrne
The highest-scoring professional football match of all-time took place in Madagascar in November 2002 when league champions AS Adema beat Stade Olymique L'Emyrne 149-0.
The visitors put the ball in their net on each occasion, deliberately, in protest over a refereeing decision.
International: Australia 31-0 American Samoa
Whilst the record scoreline in a competitive match may have been in protest, American Samoa were trying when they were hammered 31-0 by Australia in 2002 World Cup qualifier in April 2001.
Australia's Archie Thompson also broke the record for most goals scored by a player in an international match by scoring 13 goals.
European Championship Qualifying: San Marino 0-13 Germany
Germany kicked off their Euro 2008 qualification with a record 13-0 thumping of San Marino. Lukas Podolski bagged four goals whilst Bastian Schweinsteiger, Miroslav Klose and Thomas Hitzlsperger each netted a brace.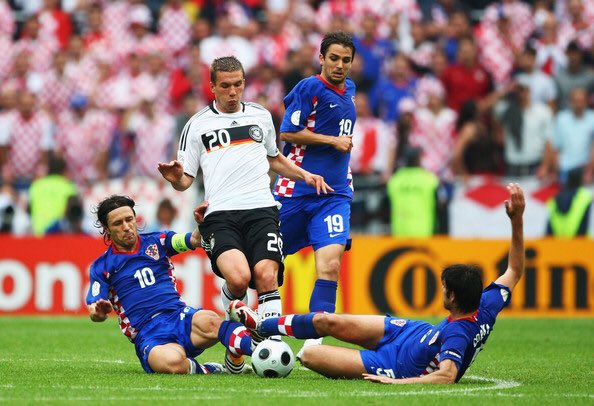 Just over 5,000 attended the game – the equivalent of about 20% of the country's population.  This was Joachim Löw's second competitive game following his 1-0 win over Ireland, taking over from Jürgen Klinsmann following the 2006 World Cup.
World Cup: Germany 8-0 Saudi Arabia
Germany have given a few times a hiding in their time and back in 2002, they set a record score at the World Cup in Japan and South Korea.  They started their tournament by humiliating Saudi Arabia 8-0 in Sapporo.  Whilst not the highest-scoring game in World Cup history, it is the biggest margin of victory.
This was a game and tournament which Miroslav Klose put his name on the world football map – scoring a hat-trick on his way to winning the Golden Boot and later becoming the record top scorer in the competition.  Five other players got on the scoresheet for the Germans, including Euro 96 hero Oliver Bierhoff.
Champions League: Borussia Dortmund 8-4 Legia Warsaw
The highest-scoring Champions League game was set back in November 2016 when Borussia Dortmund and Legia Warsaw played out a group stage thriller at Signal Iduna Park.  There were five goals in the opening 24 minutes alone before the hosts took a 5-2 lead into the break.
No hat-tricks were scored by Shinji Kagawa and Marco Reus both grabbed a brace for the Germans, as did Aleksandar Prijović for the visitors.  Other records that were set in this match: eight different goalscorers,
When the Champions League was known as the European Cup, Feyenoord beat KR 12-2.
Europa League: Ajax 14–0 Red Boys Differdange
In their opening UEFA Cup round in 1984, Dutch giants Ajax handed part-timers Red Boys Differdange from Luxembourg a record thrashing that still remains today.  The 14-0 scoreline is both a record margin of victory and number of goals scored in a single European match.
Ajax were 4-0 up after only 18 minutes but only added one more before the break.  Fatigue seemingly kicked in for the visitors as Marco van Basten and co scored a further five in the remaining 20 minutes.  As well as van Basten, the likes of Ronald Koeman, John Bosman and Frank Rijkaard got on the scoresheet.
Premier League: Portsmouth 7-4 Reading
The English Premier League has had some thrilling matches over the years but one game stands alone in terms of goals.  Sol Campbell's 94th-minute own goal saw Portsmouth and Reading play out the highest-scoring game since the league rebranded in 1992.
Benjani netted a hat-trick for the hosts and was, incredibly, the only player to net more than one in this match.  The score had only been 2-1 to Portsmouth at half-time as well!
FA Cup: On 15 October 1887, Preston North End defeated Hyde 26–0, which remains the record score in an FA Cup tie.
Preston North End hold the record for the biggest victory in competitive English football when they thrashed Hyde FC 26-0 in the first round of the FA Cup back in October 1887.  This was the 17th staging of the competition.
Jimmy Ross scored seven goals for the hosts who led 12-0 at half-time.  Preston were 9-1 winners over Bolton Wanderers in the next round, going all the way to the final where they would lose to West Bromwich Albion.
El Clasico: 6-6 & 11-1 – both in the Copa del Rey
When Real Madrid and Barcelona meet it is the most-watched football match in the world.  El Clasico as it's known excites fans all over the world with star name after star name on each teamsheet.  There have been some thrillers over the years and a number of controversies.  The game rarely disappoints.
In terms of the highest scoring battles between these two we have to go a long way back in the record books and to two Copa del Rey ties.  The first took place in 1916 in the semi-final of the tournament where they played out a 6-6 draw at the Bernabeu.  Extra-time was even played before Real Madrid prevailed 4-2 in the second leg.
The second time 12 goals were scored between these two came in 1943, also in the semi-finals of the Copa del Rey.  However, it wasn't nearly as close as Real Madrid ran out convincing 11-1 winners at the Bernabeu.  Sabino Barinaga scored four times whilst Barcelona's solo goal was a last minute consolation.
Confederations Cup: Spain 10-0 Tahiti
In the warmup tournament before the 2014 World Cup, Spain entered the Confederations Cup in Brazil as Euro 2012 winners, Tahiti had surprisingly won the 2012 OFC Nations Cup but were never expected to handle the major players in the world.
Tahiti were largely made up of part-time players and had been hammered 6-1 by Nigeria in their opener before taking on Spain three days later at the Maracanã.  Fernando Torres even managed to score four goals, and David Villa helped himself to a hat-trick.  David Silva (2) and Juan Mata also got on the scoresheet.